Pernah ingat postingan gw tentang Super Junior?
Lebih tepatnya postingan gw tentang Eunhyuk sih. (lihat: ‡ Eunhyuk | Lee HyukJae ‡)

Kali ini gw mau bahas tentang idol group lain;
berbeda dengan Girls' Generation dan Super Junior yang boleh dibilang memulai debut duluan,
idol group satu ini boleh dibilang cukup baru namun ketenarannya terus meningkat. :D



Perkenalkan B2ST (Boys 2 Search for Top), namun akhirnya nama mereka diubah menjadi BEAST (Boys of East Standing Tall),
merilis mini album mereka pada tanggal 14 Oktober 2009 di bawah label Cube Entertainment.

Terdiri dari enam member yaitu:


Lahir 4 Juli 1989, merupakan leader dari BEAST.
Awalnya dia salah satu trainee di JYP sebelum akhirnya pindah ke Cube Entertainment.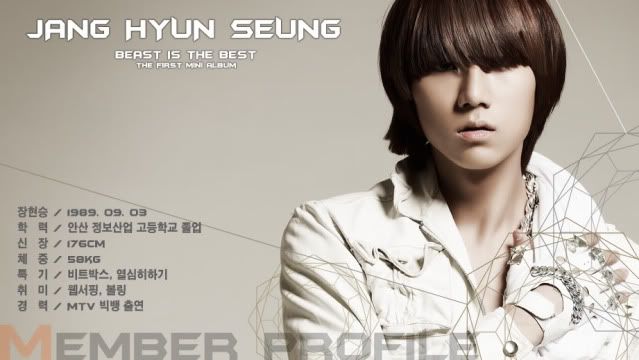 Jang Hyunseung
Lahir 3 September 1989, merupakan lead dancer sekaligus lead vocalist BEAST.
Sempat menjadi trainee di bawah naungan YG Entertainment.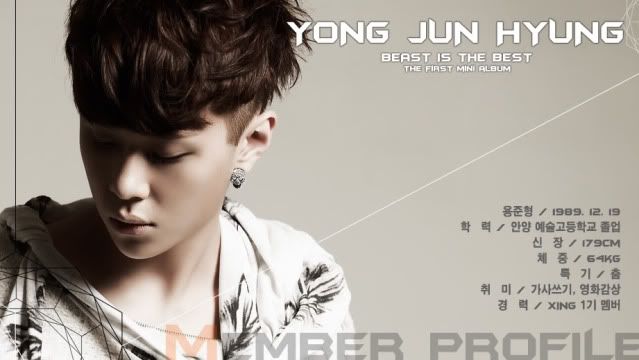 Yong Junhyung
Lahir 19 Desember 1989, merupakan main rapper BEAST.
Awalnya merupakan bagian dari boyband "Xing" sebelum akhirnya menjadi anggota BEAST.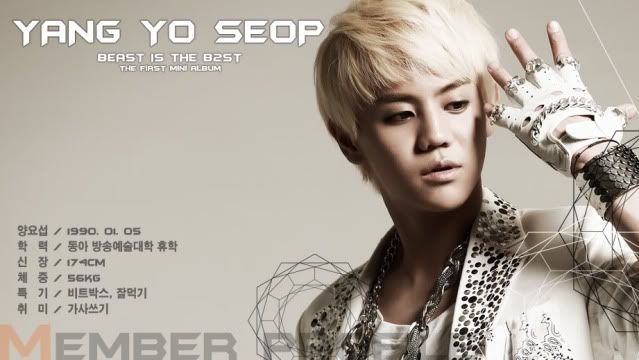 Yang Yoseob
Lahir 5 Januari 1990, merupakan main vocalist dari BEAST.
Pernah menjadi trainee dari JYP sebelum akhirnya menjalani training selama 5 tahun di M Boat dan dipindah lagi ke Cube Entertainment.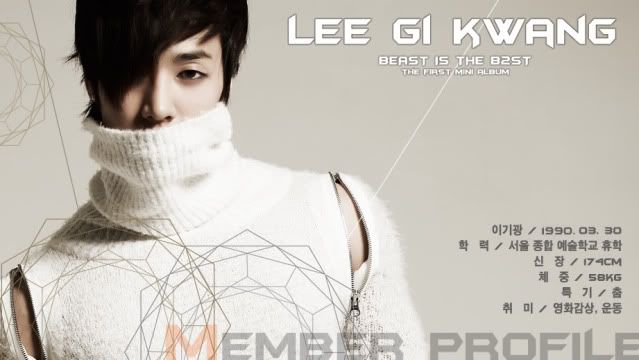 Lee Gikwang
Lahir 30 Maret 1990, merupakan main dancer BEAST.
Sempat menjadi trainee JYP selama 4 tahun sebelum pindah ke Cube Entertainment dan melakukan debut solo dengan nama Ace Junior (AJ).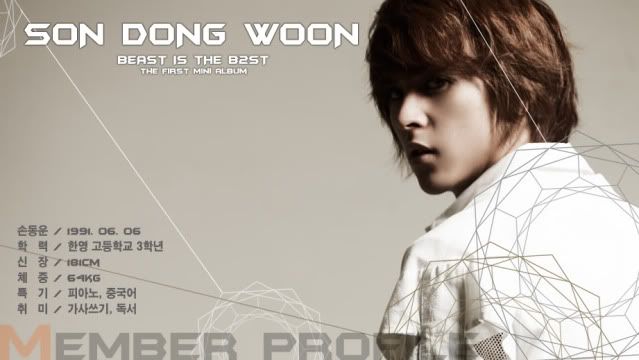 Son Dongwoon
Lahir 6 Juni 1991, merupakan anggota termuda dan yang terakhir bergabung dalam BEAST.
Pernah menjadi trainee di JYP selama 2 tahun.
Sebelumnya silahkan diingat bahwa walaupun gw dengerin lagu2 korea,
gw ga pernah ngefans ama para artisnya, kecuali, sekali lagi, Super Junior.
BEAST adalah satu-satunya idol group/artis korea yang bisa menarik perhatian gw setelah Super Junior,
yang bikin gw pengen mencari MV, performance, dan variety show mereka sedemikian rupa.
Kalau Super Junior mengajarkan gw kehidupan mereka ga pernah seindah yang kita bayangkan,
bahwa mereka menjalani kehidupan yang berat dan berlika-liku,
bahwa ikatan mereka sebagai keluargalah yang menguatkan mereka,
BEAST mengajarkan hal yang sama sekaligus berbeda buat gw.
Awalnya gw terpana melihat MV Bad Girl Japanese Ver. yang rilis tahun 2011 ini.
Saat itulah gw terpana karena Gikwang dan akhirnya mencari tahu lebih lanjut.
Berlanjut ke tontonan variety show

Oh My School

,
gw pun jatuh cinta pada Yoseob yang sangat lucu dan menarik.
Akhirnya gw mencari ke sana kemari dan menemukan banyak acara yang melibatkan mereka;
walau tentunya belum sebanyak Super Junior.
Satu fakta tentang mereka seperti yang gw sebutkan di atas,
mereka bukan trainee langsung di bawah label Cube Entertainment pada awalnya.
Beberapa dari mereka bahkan diberi nilai buruk pada masa training hingga akhirnya mereka pindah.
Waktu itu gw pernah baca sebuah artikel yang mengatakan bahwa mereka adalah grup-daur-ulang

(recycled group)

.
Ketika BEAST mendengar hal itu, bayangkan betapa perihnya hati mereka mendengar kata-kata seperti itu.
Mereka melalui masa training yang sulit, penderitaan yang akhirnya dibayar dengan kesuksesan mereka sekarang, dan waktu yang dilewati hingga sekarang.
Sebuah quote tentang BEAST yang membuat gw tersenyum adalah:
BEAST isn't the recycled group,

but the rediscovered group.
One note
dari BEAST yang gw sadari adalah mereka berenam selalu mengambil bagian dalam sebuah lagu secara hampir kurang lebih sama rata;
kita pasti bisa menemukan suara mereka di setiap lagu,
mulai dari debut mereka hingga sekarang.
Berikut adalah discography mereka,
yang gw bold adalah lagu yang menurut gw

recommended

buat didengar sih. ;)
Title : BEAST 1st Mini Album – Beast Is The B2ST
Release Date : 2009.10.14
01. Beast Is The B2ST
02. Bad Girl
03. Mystery
04. 아직은 (Yet)
05. Oasis
Title : Beast 2nd Mini Album – Shock Of The New Era
Release Date : 2010.03.02
1. Just Before Shock
2. Shock
3. Special
4. Take Care of My Girlfriend (Say No)
5. Easy
Title : Beast 3rd Mini Album - Mastermind
Release Date : 2010.09.30
1. Mastermind
2. Breath
3. V.I.U (Very Important U)
4. Breakdown
5. Clenching my Fist Tight
Title : Beast 4th Mini Album - Lights Go On Again
Release Date : 2010.11.09
1. Lights Go On Again
2. Beautiful
3. 니가 제일 좋아 (I Like You More than Anything)
4. Lightless
5. I'm Sorry
Title : Fiction and Fact
Release Date : 2011.05.17
Tracklist:
1. The Fact
2. Fiction
3. Back to You
4. You
5. Freeze
6. Virus
7. 불러보지만
8. 비가 오는 날엔
9. Lightless (Unplugged Ver.)
10. Fiction (Orchestra Ver.)
Please do love BEAST more. ^^
(note: fans BEAST disebut B2UTIES)
+
Lyrics of the day
+
(We are beast)
Come on come on hey, naegero wa
(It's the b2st)
Come on come on hey, naega boyeojulge
(We are beast)
Come on come on hey, ppajyeonagal su eopge
(It's the b2st)
Come on come on hey, naega boyeojulge
Gwitgae namgyeojyeo beorin
Neol sarojabeul mellodi
Deullini geochin sumsori
Dadeul dadeul naege banhae
Ijeneun naega neol take it
Boyeojulge moduda
Beast is the best. time to fly
(BEAST is the B2ST by BEAST)
(We are BEAST!)
Come on, come on hey, come to me
(It's the best/b2st!)
Come on, come on hey, I'll show you
(We are BEAST!)
Come on, come on hey, you can't escape
(It's the best/b2st!)
Come on, come on hey, I'll show you
Let it come into your ears,
capturing the melody
Let everybody, everybody hear
the heavy breathing sounds
Now, I'll take it,
I'll show you everything
BEAST is the best. Time to fly